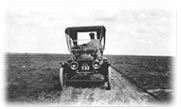 A lone Model T rumbles
through a farm field, ca. 1912.
Photo: P.O.1088.A

With the development of the sturdy, low-priced Model T in 1908, Henry Ford made his company the biggest in the industry. By 1914, the moving assembly line enabled Ford to produce far more cars than any other company. The Model T and mass production made Ford an international celebrity.

Because of the amazing run of this model, we decided not to focus on just one year of the "T." Instead, the selected materials will follow the automobile through its entire production.
About our Car: (Pictured at top) This 1914 Touring Car is one of several Model T Fords given to naturalist John Burroughs by his friend, Henry Ford, in an ultimately successful attempt to convince Burroughs that cars aided, rather than hindered, the study of nature.